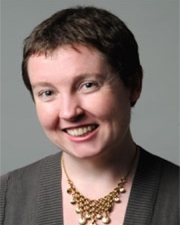 Sally E. Thompson
Title
Assistant Professor
Department
Dept of Civil and Environmental Engineering
Research Expertise and Interest
nonlinear dynamics
,
spatial ecology
,
Ecohydrology
,
surface hydrology
,
arid and semi-arid watersheds and ecosystems
,
pattern formation
,
plant physiology
,
water resource sustainability
Research Description
Sustainable land and water management in the face of global change is one of the critical challenges confronting environmental sciences. At almost all scales, the earth-system is characterized by high dimensionality, nonlinearity and process-interdependency, so that changes in one component can propagate between different processes in complex ways. Thus, predicting ecological, hydrological and geophysical responses in the face of global climate and land-use change, as required to ensure sustainable management, remains one of the grand scientific challenges of our times. My scientific goals lie in using self-organized or optimized components of hydrological systems, particularly as they relate to the distribution and water use by vegetation, to address the complex interactions between water, and its spatial and temporal distribution on the landscape, and ecosystems. Where self-organization occurs, emergent patterns may act as both signatures and drivers of the system, and offer a tractable approach to reduce the dimensionality and increase the tractability of prediction. I am particularly interested in applying these approaches to understanding the drivers of the distribution of vegetation (and related ecological processes) at landscape and watershed scales, and in using observations of such spatial distribution as indicators of ecosystem resilience and hydrological responses. My research expertise lies in the combined use of field, remote-sensing and modeling techniques to describe the spatial evolution of vegetation cover in arid and semi-arid ecosystems.