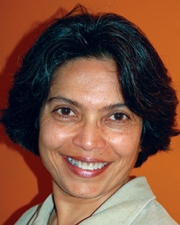 Saba Mahmood
Title
Professor of Anthropology
Department
Department of Anthropology
Research Expertise and Interest
religion
,
secularism
,
gender
,
ethics and politics
,
minorities
,
Islam
,
the Middle East
,
and South Asia
Description
Professor Mahmood's work focuses on the interchange between religious and secular politics in postcolonial societies with special attention to issues of embodiment, cultural hermeneutics, law, and gender/sexuality.  Her work is best known for its interrogation of liberal assumptions about the proper boundary between ethics and politics, freedom and unfreedom, the religious and the secular, and agency and submission.  
Professor Mahmood is currently working on a book about the right to religious liberty and non-Muslims minorities in the Middle East. With a particular focus on Egypt in the context of international and regional developments, three questions are central to the framing of this project: How has the inequality of first and third world sovereignty affected the exercise of religious liberty differently for religious minorities of the Middle East?  How has the discourse on minority rights and religious liberty been transformative of the self-understanding of indigenous Christians in the region? What normative conceptions of freedom, religion, community, and citizenship are encoded in the right to religious freedom as it has come to be litigated in recent jurisprudence of courts in Europe and the Middle East?
In the News
December 2, 2010
The Henry R. Luce Initiative on Religion and International Affairs has awarded Saba Mahmood, an associate professor of anthropology at the University of California, Berkeley, a three-year, $496,000 grant to study how law and politics are transforming religious freedom.Mahmood's "Politics of Religious Freedom" project will bring together key human rights and civil society organizations, along with jurists, policymakers and academics who have helped reshape the debate on religious freedom in the United States, the Middle East, South Asia and the European Union.