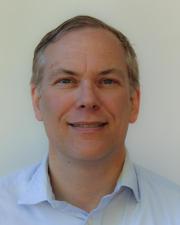 Ron Fearing
Department
Division of Electrical Engineering/EECS
Research Expertise and Interest
robotics
,
gecko adhesion
,
bioinspired robots
,
mobile millirobots
Research Description
Ronald Fearing is a professor in the Dept. of Electrical Engineering and Computer Sciences at Univ. of California, Berkeley, which he joined in Jan. 1988.  He was Vice-Chair for Undergraduate Matters from 2000-2006, and is Vice-Chair for Graduate Matters (2016-present). His current research interests are in bioinspired milli-robotics, including  jumping and crawling milli-robots, cooperative locomotion, rapid prototyping, and actuators. He has worked in tactile sensing, teletaction, dextrous manipulation, and parallel nano-grasping (gecko adhesion).  He has a PhD from Stanford in EE (1988) and SB and SM in EECS from MIT (1983).  He received the Presidential Young Investigator Award in 1991, and is the co-inventor on 18 US and international patents.
In the News
May 21, 2019
Researchers at the University of California, Berkeley, first unveiled Salto's high-flying capabilities in 2016. Now, they've equipped the robot with a slew of new skills, giving it the ability to bounce in place like a pogo stick and jump through obstacle courses like an agility dog. Salto can even take short jaunts around campus, powered by a radio controller.
October 17, 2011
When UC Berkeley engineers outfitted a six-legged robotic bug with wings in an effort to improve its mobility, they unexpectedly shed some light on the evolution of flight. The wings nearly doubled the running speed of the 25-gram robot. Find out why that wasn't good enough for takeoff.
September 13, 2010
UC Berkeley engineers have developed a pressure-sensitive electronic material from semiconductor nanowires that could one day be used as an artificial skin for robots and prosthetic limbs.