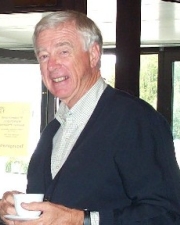 Robert K. Brayton
Department
Division of Electrical Engineering/EECS
Research Expertise and Interest
computer-aided design for VLSI; computer-aided design of integrated circuits
,
computer systems
Research Description
Robert Brayton received the BSEE degree from Iowa State University in 1956 and the Ph.D. degree in mathematics from MIT in 1961. From 1961 to 1987 he was a member of the Mathematical Sciences Department of the IBM T. J. Watson Research Center. In 1987 he joined the EECS Department at Berkeley, where he is the Cadence Distinguished Professor of Engineering and the director of the SRC Center of Excellence for Design Sciences.
His recent research interests include non-deterministic networks and the optimization of multi-level, multi-valued networks and formal verification of logic networks.