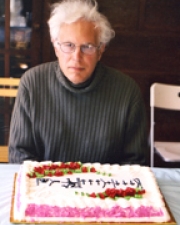 Robert A. Harris
Title
Professor of the Graduate School
Research Expertise and Interest
molecules
,
radiation
,
theoretical chemistry
,
atoms
,
weak interactions
,
condensed matter.
Research Description
Professor Harris has found that understanding the universe is proving more difficult than anticipated. He has not however, given up on his quest.
Professor in the graduate school, born 1936; B.S. University of Illinois (1957); Ph.D. University of Chicago (1960); Junior Fellow, Harvard (1960-63); A.P. Sloan Fellow (1965-67); N.S.F. Senior Postdoctoral Fellow (1968-69); Visiting Fellow, Sidney Sussex College, Cambridge University, England (1972); Miller Research Professor of the University of California (1975 76); A. von Humboldt Senior American Scientist Award (1977-78); Special Visiting Professor, Institute of Chemistry, Tel Aviv University, Israel (1978); Guggenheim Foundation Fellow (1982-83); Visiting Professor of Theoretical Chemistry, University of Sydney, Australia (1983);N.S.F. Special Creativity Grant (1985-87); Visiting Professor of Physical Chemistry, The University of Goteborg, Goteborg, Sweden (1988); Fellowship Awards: Danish Science Foundation, Oerstead Institute, University of Copenhagen, (1988), A. von Humboldt Senior American Scientist Re-invitation Award, Max Planck Institute for Physics and Astrophysics, Munich, Germany (1994, 1998).