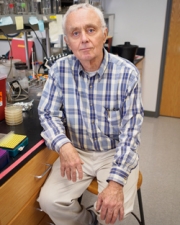 Richard Calendar
Title
Professor of the Graduate School Division of Biochemistry, Biophysics and Structural Biology
Department
Dept of Molecular & Cell Biology
Research Expertise and Interest
listeria monocytogenes
,
phage-based integration vector
,
Bacillus anthracis
,
vaccine
Research Description
We are constructing an integration vector--a plasmid that can insert in the B. anthracis chromosome--that will allow us to express particular antigens of B. anthracis at a high level. The new phages that we are characterizing are extremely virulent. We intend to determine why this is so.