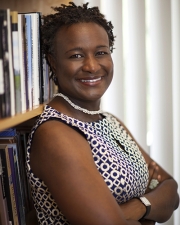 Prudence L. Carter
Title
Dean, E.H. and Mary E. Pardee Professor
Department
Graduate School of Education
Research Expertise and Interest
racial inequality
,
social and cultural inequalities in schools and education
,
urban poverty
,
sociology
Research Description
Prudence L. Carter is the E.H. and Mary E. Pardee Professor and Dean of the Graduate School of Education at Berkeley. As a sociologist, her primary research and teaching agenda focuses on causes of and solutions to enduring social and cultural inequalities in schools and education.
Dean Carter's expertise ranges from issues of youth identity and race, class, and gender, urban poverty, social and cultural inequality, the sociology of education and mixed research methods. Specifically, she examines academic and mobility differences shaped by the effects of race, ethnicity, class, and gender in the United States and global society.
Before being appointed Dean at Berkeley, she was the Jacks Family Professor of Education and Professor of Sociology (by courtesy) at Stanford University. She was also the Faculty Director of John W. Gardner Center for Youth and Their Communities, and the Director of the Research Institute for Comparative Studies in Race and Ethnicity.
A product of public schools in the Mississippi Delta, Dean Carter received a Bachelor of Science degree in applied mathematics and economics from Brown University; earned a Master of Art in Sociology and Education from Teachers College, Columbia University; and a Master of Philosophy and Ph.D. in Sociology from Columbia University.
Dean Carter's books include the award-winning Keepin' It Real: School Success beyond Black and White (Oxford University Press, 2005); Stubborn Roots: Race, Culture, and Inequality in U.S. & South African Schools (Oxford University Press, 2012); and Closing the Opportunity Gap: What America Must Do to Give Every Child an Even Chance (Oxford University Press, 2013), co-edited with Dr. Kevin Welner.
Dean Carter is an elected a member of the National Academy of Education; the Sociological Research Association; and a Fellow of the American Educational Research Association (AERA). She also serves on the Board of Trustees for the William T. Grant Foundation; and SOAR for Youth (Support, Opportunities, and Rapport).
In the News
September 14, 2020
Deeply-grooved roadblocks to racial equity in K-12 education — and ways to surmount them — were the focal point of a compelling, livestreamed Berkeley Conversations event with four experts on Monday.  Prudence Carter, dean of UC Berkeley's Graduate School of Education, used key historical moments to show where she said opportunities to recalibrate a "continual cycle of accumulated disadvantage" went awry.