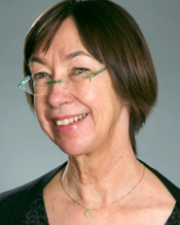 Patricia Zambryski
Title
Professor of Plant and Microbial Biology
Department
Dept of Plant and Microbial Biology
Research Expertise and Interest
microbial biology
,
plant biology
,
plant intercellular communication via plasmodesmata
,
Agrobacterium
,
bacterial type IV secretion
Research Description
Our laboratory performs research in two distinct areas. In microbial biology we study the molecular mechanisms utilized by Agrobacterium that leads to the genetic transformation of plant cells. In plant biology we study how plant cells communicate with each other via unique plant specific intercellular structures called plasmodesmata.
In the News
January 11, 2011
Four UC Berkeley faculty members have been named 2010 Fellows of the American Association for the Advancement of Science (AAAS), the world's largest general scientific society and publisher of the journal Science.