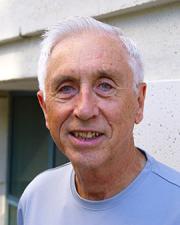 Norman Terry
Department
Dept of Plant and Microbial Biology
Research Expertise and Interest
Phytoremediation
,
Bioremediation
,
environmental cleanup
,
soil and water
,
plant biology
,
microbial biology
Research Description
Norman Terry is a emeritus professor in Environmental Plant Physiology.  His research focused on the physiology and biochemistry of environmental stresses associated with water, mineral nutrients, salinity, and toxic heavy metals. Since 1990 his research focused on phytoremediation, the use of plants to clean up contaminated soil and water. His major accomplishments include development of the use of constructed wetlands to remove selenium and toxic heavy metals from agricultural and industrial wastewater, as well as the development of genetically engineered plants for the phytoremediation of selenium- or heavy metal-contaminated soils. He has also studied mechanisms of boron transport and hyperaccumulation in plants and bacteria. Most recently he has researched ways of remediating a 72-acre lowland and wetland site contaminated with petroleum hydrocarbons and heavy metals.
In the News
November 26, 2012
A rotten-egg stench that fouled a swath of Southern California in September was traced to the Salton Sea — the latest episode in the environmental woes of California's largest, but rapidly shrinking, inland lake. Now a new study has demonstrated a cost-effective method for using man-made wetlands to clean contaminants out of the freshwater rivers that flow into the sea.