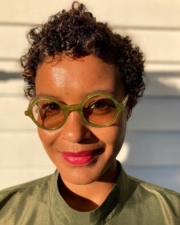 Nana Adusei-Poku
Title
Assistant Professor
Research Expertise and Interest
African diasporic art history
Research Description
Nana Adusei-Poku is an assistant professor in African Diasporic Art History in the Department of History of Art.   She is immersed in the void, the abyss, and sunken places and how those articulate themselves in texts, bodies, images, and relations. The question "What are the conditions of our existence", which Stuart Hall asked, remains core to her journey and inspires her to embody and develop an engaged pedagogical approach and to explore the performativity of nothingness and life "in the hold". Her research on Cultural Shifts and how they articulate themselves through the intersections of Art, Politics, and Popular Culture; Artistic productions from the Black Diasporas, and curatorial practice as a research tool to shape art historical discourses.
She is the curator of the exhibition Black Melancholia at the CCS Bard Galleries, Bard College, Annandale-on-Hudson, New York 2022, and curated a.o. the event Performances of No-thingness at the Academy of Arts Berlin in 2018 and the program: Longing on a Large Scale in conjunction with Todd Gray's Exhibition Euclidean Gris Gris at Pomona College Museum of Art 2019-2020. No Humans Involved was her first co-curated project at the Witte de With Center for Contemporary Art in Rotterdam, which she realized during her curatorial fellowship in 2015.
She is the editor of the forthcoming book Reshaping the Field: Art of the African Diasporas on Display which Afterall will publish. The book expands the field of exhibition histories through a selection of pioneering exhibitions that have shaped Black art today. Emphasizing how Black artists have organized, networked, and created space for their work, it is the first publication to focus exclusively on African diasporic art in the US and UK through the histories of Black art exhibitions. Through a range of contributions by artists, art historians, curators, and theorists, this publication reflects on the sociopolitical circumstances that were essential to the emergence of a field of study and mode of exhibition that is constantly reshaping itself and challenging normative orders.
Her first Monograph Taking Stakes in the Unknown: Tracing Post-Black Art contextualizes the term "post-Black" in its socio-historic and cultural contexts. It examines the legacy of Thelma Golden's 2001 exhibition, "Freestyle," and the works of participating artists who were defined as part of the "post-black" generation: Mark Bradford, Leslie Hewitt, Mickalene Thomas, and Hank Willis Thomas whilst expanding the discourse through the Black German artist Philip Metz. 
Her articles have been published in Nka- Journal of Contemporary African Art, eflux, Kunstforum International, Flashart!, L'Internationale, multitudes, Darkmatter, Afterall, and Yale Theater Magazine a.o. and translated in English, German, Portuguese, French, and Swedish.
Adusei-Poku has been a visiting scholar at the University of Ghana, Legon; the London School of Economics; Columbia University, New York, and a Fellow at the Goethe Institute in Salvador de Bahia, Brazil.