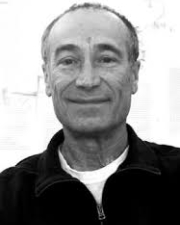 Miquel Salmeron
Title
Adjunct Professor of Materials Science and Engineering
Department
Dept of Materials Science and Engineering
Research Expertise and Interest
molecules
,
lasers
,
atoms
,
materials science and engineering
,
matter
,
scanning
,
tunneling
,
atomic force microscopies
,
x-ray photoelectron spectroscopy
Research Description
Salmeron's research is centered on understanding the atomic level origin of the mechanical, physical and chemical properties of matter in small dimensions (surfaces, films, clusters of atoms or single atoms and molecules), using techniques such as Scanning Tunneling and Atomic Force Microscopies, X-ray Photoelectron Spectroscopy and Lasers.
In the News
October 23, 2014
Berkeley Lab researchers have recorded the first observations of the molecular structure of liquid water at a gold electrode under different battery charging conditions.
May 29, 2014
Berkeley Lab researchers have found unexpected traces of water in semiconducting nanocrystals that helps answer long-standing questions about their surface chemistry.
March 20, 2012
At Berkeley Lab's Molecular Foundry, scientists have provided the first experimental determination of the pathways by which electrical charge is transported from molecule-to-molecule in an organic thin film.