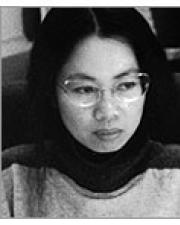 Minh-Ha Trinh
Department
Dept of Gender and Women's Studies
Dept of Rhetoric
Research Expertise and Interest
gender and sexuality
,
women's studies
,
rhetoric
,
feminist postcolonial theory
,
film theory and production
,
music composition
,
ethnomusicology
,
contemporary critical theory and the arts
Research Description
Trinh T. Minh-ha is Professor of Gender and Women's Studies, and of Rhetoric. Professor Trinh has taught in the Women's Studies Department since 1994 and in the Department of Rhetoric since 1997. She has also taught at Harvard, Smith, Cornell, San Francisco State University, the University of Illinois, Ochanomizu University in Japan and the National Conservatory of Music in Senegal. Having received her two Masters (in Music Composition and in French Literature) and Ph.D. from University of Illinois, Champaign-Urbana, Trinh T. Minh-ha is a world-renown independent filmmaker and feminist, post-colonial theorist. She teaches courses that focus on cultural politics, post-coloniality, contemporary critical theory and the arts. The seminars she offers cover a wide range of topics such as: Third cinema; Film, Feminism and the Avant-garde; film theory and aesthetics; the voice in cinema; the autobiographical voice; critical theory and research; postcoloniality and its critical tools; and feminist theory. She has published eight books (including The Digital Film Event [2005], Cinema Interval [1999]; Framer Framed [1992], When the Moon Waxes Red [1991];and Woman, Native Other [1989]). Her work also includes two large-scale multimedia installations and seven feature-length films that have been honored in over thirty retrospectives around the world: Reassemblage (1982), Naked Spaces (1985), Surname Viet Given Name Nam (1989), Shoot for the Contents (1991), A Tale of Love (1996), The Fourth Dimension (2001), and Night Passage (2004).She is currently at work on a new book and a large-scale installation for a new museum in Paris.