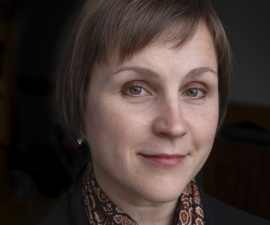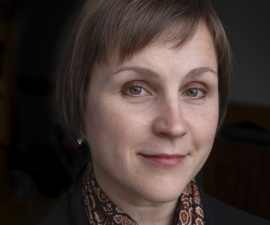 Research Expertise and Interest
post-Soviet Ukraine, popular music, folklore music revivals, revival of rural musical repertoires, critical organology, accordion, voice
Research Description
Maria Sonevytsky's research focuses primarily on post-Soviet Ukraine, where she has investigated topics such as discourses of sovereignty and "wildness" in post-Soviet Ukrainian popular music, folklore revivals after state socialism, Indigenous Crimean music, and the effects of the Chornobyl nuclear disaster on the revival of rural musical repertoires. In 2015, Smithsonian Folkways released "The Chornobyl Songs Project: Living Culture from a Lost World," which she produced and developed in collaboration with Professor Yevhen Yefremov (Kyiv Academy of Music), the Yara Arts Group, and the Center for Traditional Music and Dance. Her first book, Wild Music: Sound and Sovereignty in Ukraine, was published in the Music/Culture Series of Wesleyan University Press in 2019.
Professor Sonevytsky is currently developing two new book projects: the first is under contract with the 33 1/3: Europe Series (published by Bloomsbury). It centers on the semi-illicit circulation of "Tantsi," the first recording made by the Ukrainian punk band Vopli Vidopliassova in the late Soviet period. The second project, tentatively titled Lullabies for Lenin: Soviet Children, Music, and the Communist Future, examines how Soviet children's musical performances publicly enacted state-sanctioned norms of gender, tradition, citizenship, and musicality, while allowing for the dynamic contestation of such desired norms through rehearsal and performance. 
A secondary area of interest is in critical organology. Her earliest publication, a 2008 article titled "The Accordion and Ethnic Whiteness: Toward a New Critical Organology" introduced the concept of critical organology as the study of the social life of musical instruments, exploring how they inform the aesthetic and political choices musicians make. She is in the early stages of developing a collaborative performance-oriented project that will further examine the place of the accordion in various immigrant communities in North America.
Professor Sonevytsky received her Ph.D. in ethnomusicology from Columbia University in 2012. She has held postdoctoral fellowships at Harvard University, the University of Toronto, and Columbia. Before moving to Berkeley, she was an Assistant Professor at Bard College in Annandale-on-Hudson, NY from 2014-2018.
A performer in many genres, Sonevytsky sings and has been known to play the accordion.