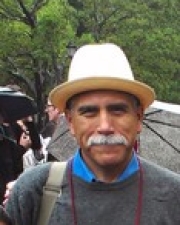 Marcial Gonzalez
Title
Associate Professor of English
Research Expertise and Interest
Chicano and Chicana literature
,
twentieth-century American ethnic literatures
,
theory of the novel
,
marxism
,
critical theory
,
farm worker social movements
Description
I specialize in the study of Chicano/a literature, Chicana/o social movements, narrative theory, and Marxist literary theory. I am the author of Chicano Novels and the Politics of Form: Race, Class and Reification (2009) and the co-editor of Dialectical Imaginaries: Materialist Approaches to U.S. Latino/a Literature in the Age of Neoliberalism (2018). I am currently writing a book entitled "The Grave Curse: Capitalism, Crisis, and Critique in Chicano/a Farm Worker Narratives," which focuses on the lives and struggles of Mexican farm laborers as represented in Chicana/o narratives from 1970 to 2005. My recent published articles include: "Ngũgĩ wa Thiong'o's Theory of the Anti-imperialist Novel: The Re-appropriation of a Literary Form" in Ngũgĩ in the American Imperium, edited by Timothy J. Reiss (African World Press, 2018); "Mass Incarceration and the Critique of Capitalism: A Working-class Viewpoint in Ronald Ruiz's Happy Birthday Jesús" in Dialectical Imaginaries: Materialist Approaches to U.S. Latino/a Literature in the Age of Neoliberalism, edited by Marcial González and Carlos Gallego (University of Michigan Press, 2018); "Herbert Marcuse's Repudiation of Dialectics: From Reason and Revolution to One-Dimensional Thinking," Science and Society: A Journal of Marxist Thought and Analysis (2018); "Against Omniscient Narration: A Farmworker Critique of Neoliberalism" in Neoliberalism and Contemporary Literary Culture, edited by Mitchum Huehls and Rachel Greenwald Smith (Johns Hopkins University Press, 2017), 140-159; "Where Do Social Inequalities Come From?: Class Divides in Chicana/o Literature," Radical Teacher: A Socialist, Feminist, and Anti-Racist Journal on the Theory and Practice of Teaching 101 (Winter 2015), 15-20; "Narrating the Inadmissible: Storytelling and Dialectical Form in Barefoot Heart and Children of the Fields," Arizona Quarterly 70:2 (Summer 2014), 55-83; "The Future as Form: Undoing the Categorical Separation of Class and Gender in Ana Castillo's Sapogonia" in Created Unequal: Class and the Making of American Literature, edited by Andrew Lawson (Routledge, 2014), 215-228.