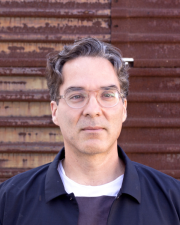 Marcel Sanchez Prieto
Title
Associate Professor
Research Expertise and Interest
architecture
,
digital design
Research Description
Marcel Sanchez-Prieto is co-founder of CRO Studio in partnership with Adriana Cuellar, a collaborative practice originated in the border region of Tijuana – San Diego, the range of projects speak to urban renewal through architecture and research, addressing sustainable revitalization of city neighborhoods, emergent growth on urban peripheries, the resurgence of civic space, migrant populations and the impact of industry and material technology.
Born in Tijuana Mexico, he received his Bachelor of Architecture from Universidad Iberoamericana in Tijuana and Master in Architecture from the University of California, Los Angeles, where he was awarded the Director's Scholarship Award. He is the recipient of the 2018-19 Rome Prize in Architecture from the American Academy in Rome and the Best Project 2020 ACSA College of Distinguished Professors Award. In 2017 he was selected among 32 social housing prototypes built in Apan Hidalgo, Mexico as part of the Social housing laboratory for INFONAVIT Institute of the National Housing Fund for Workers. He also received the 2013 P/A Progressive Architecture Award and two XXII CEMEX awards, was selected in Arquine's "Best of XXI century Vol. 5 2011-12 and Vol.6 2013-14", and recognized among the 2014 IX BIAU Ibero-American Biennial of Architecture and Urbanism in Rosario Argentina.