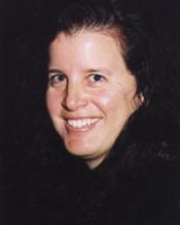 Lynn Ingram
Title
Professor of Earth and Planetary Science, and Geography
Department
Dept of Earth and Planetary Science
Dept of Geography
Research Expertise and Interest
geophysics
,
geology
,
earth and planetary science
,
geography
,
stratigraphy with strontium isotopes
,
paleontological
,
paleoclimate
,
California climate change
,
paleosalinity
,
shellmounds
,
geochemical data
,
paleoclimatic and paleo-environmental reconstruction in aquatic environments using sedimentological
Research Description
Lynn Ingram received her B.S. and her M.S. in geology from UCLA, the first in 1984, the second in 1989 and then her Ph.D in Geology from Stanford University in 1992.
Her current research focusses on stratigraphy with strontium isotopes and paleoclimatic and paleo-environmental reconstruction in aquatic environments (estuarine, lacustrine, riverine, and marine) using sedimentological, paleontological, and geochemical data (primarily stable isotopes).
She has assessed changes in climate in California over the past several thousand years using geochemical analyses of sediment cores from San Francisco Bay and surrounding marshes, as well as stratified shellmounds from San Francisco Bay and Santa Barbara Basin. She has also studied lake sediments from California and the Gulf of California.
Her expertise includes sedimentary geochemistry, specifically using environmentally-sensitive isotopic tracers (87Sr/86Sr, 18O/16O,13C/12C, and 14C/12C) to document changes in salinity, streamflow, temperature, ocean circulation, and coastal upwelling.
In the News
January 14, 2016
Just last year, researchers were saying there was no end in sight for California's recent drought. But things are looking up. El Niño has swept into the Golden State and is breathing life back into the area.
January 21, 2014
As 2013 came to a close, the media dutifully reported that the year had been the driest in California since records began to be kept in the 1840s. UC Berkeley paleoclimatologist B. Lynn Ingram didn't think the news stories captured the seriousness of the situation.