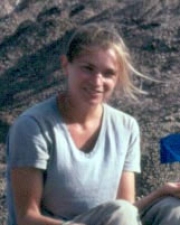 Leslea Hlusko
Title
Professor of Integrative Biology
Department
Dept of Integrative Biology
Research Expertise and Interest
primate evolution
,
paleontology
,
Ethiopia
,
Kenya
,
Tanzania
,
mammalian evolution
,
quantitative genetics
,
dental evolution
,
tooth development
Research Description
I am interested in the genetic basis of mammalian skeletal variation and evolution with a focus on primates. The research in my lab combines information and approaches from paleontology, neontology, quantitative genetics, and developmental genetics in an effort to approach morphological evolution from a genotypic perspective.
In the News
August 15, 2019
When you picture a geologist or paleontologist tramping through steep, eroded badlands in search of rocks or bones, does that scientist have a beard? For many people, including women, the answer is yes, which spurred dozens of paleontologists around the world – all of them women – to glue on beards for photos now being exhibited at the Lawrence Hall of Science (LHS) at the University of California, Berkeley. The ironic message of the Bearded Lady Project is that, contrary to the persisting stereotype, you don't have to be a man to love fieldwork and contribute to science; in fact: many field scientists are not.
April 23, 2018
The critical role that breast feeding plays in infant survival may have led, during the last ice age, to a common genetic mutation in East Asians and Native Americans that also, surprisingly, affects the shape of their teeth.
July 11, 2016
Paleontologists have identified distinctive features of primate teeth that allow them to track the evolution of our ape and monkey ancestors.