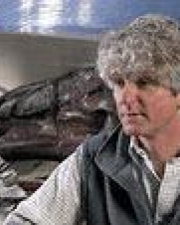 Kevin Padian
Title
Professor of Integrative Biology
Department
Dept of Integrative Biology
Research Expertise and Interest
evolutionary biology
,
paleontology
,
systematics
,
functional morphology
,
Mesozoic vertebrate paleontology
,
terrestrial vertebrate fauna
,
pterosaurs
,
Mesozoic era
,
bones of extinct reptiles
Research Description
My work falls into four general areas: (1) Origin of major evolutionary adaptations. Through a synthesis of phylogenetic, functional, and comparative morphological evidence, I try to assemble the best-supported evolutionary sequences available and to reconstruct the steps by which major adaptations, particularly flight, arise. (2) The beginning of the "Age of Dinosaurs." Although I work generally on Mesozoic vertebrate paleontology, I am most interested in the changes in the terrestrial vertebrate fauna that took place around the Triassic-Jurassic boundary. (3) Systematics, functional morphology, and flight of pterosaurs. Pterosaurs, the first vertebrates to gain powered flight, provide many interesting keys to the evolution of posture, locomotion, homeothemy, and vertebrate adaptation in the early Mesozoic Era. (4) Histology and constructional morphology of the bones of extinct reptiles. We study the microscopic structure of bones, and place our data in two contexts: phylogenetic (evolution of tissue types) and ontogenetic (development of tissue types with age). These two approaches, taken together, can provide the best picture of age, growth, and metabolism, and engineering design of bone. Our histology work is in conjunction with other researchers in California, Montana, and France.
In the News
April 4, 2022
In a new paper appearing in the current issue of the journal Acta Palaeontologia Polonica, Padian floats a new hypothesis: The T. rex's arms shrank in length to prevent accidental or intentional amputation when a pack of T. rexes descended on a carcass with their massive heads and bone-crushing teeth.
December 7, 2021
Look around any wetland today and you're likely to see 3-foot-tall egrets or 4-foot-tall herons wading in the shallows in stealthy search of fish, insects or crustaceans. But 70 million years ago, along the Rio Grande River in Texas, a more impressive and scarier creature stalked the marshes: the 12-foot-tall pterosaur known as Quetzalcoatlus. With a 37- to 40-foot wingspan, it was the largest flying animal that ever lived on Earth.