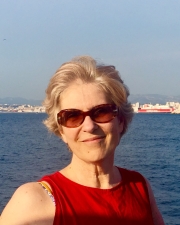 Research Expertise and Interest
comparative historical sociology
,
religion and politics
,
politics of sacred sites
Research Description
Karen Barkey is a professor in the Department of Sociology at UC Berkeley.  Her research is located within the fields of comparative, historical and political sociology, with special attention to the structure of state-"society" relations. Her research areas span from the rise of the Ottoman and Habsburg empires to the end of these empires in the late 19th and 20th centuries, and nation building in their aftermath.  At the intersection of these themes and areas, she specifically concentrate on the following substantive issues:
comparative study of imperial state-formation and imperial decline,
institutional issues of control, specifically analyzing the organizational mechanisms of how social control is effected in large-scale settings, such as empires,
analyses of imperial diversity; mechanisms for the maintenance of multi-ethnic diversity, toleration, assimilation and emerging issues of representation.
Karen Barkey is now pursing different projects on religion and toleration. She has written on the early centuries of Ottoman state toleration and is now exploring different ways of understanding how religious coexistence, toleration and sharing occurred in different historical sites under Ottoman rule.
She published an edited book, Choreography of Sacred Spaces: State, Religion and Conflict Resolution (with Elazar Barkan) (Columbia UP, 2014) that explores the history of shared religious spaces in the Balkans, Anatolia and Palestine/Israel, all three regions once under Ottoman rule. The book explores the politics and culture of conflict and cooperation over religious sites. It also provides the historical antecedents to help us understand the accommodation and contention around specific sites in the modern period, tracing comparatively areas and regime changes over time. In many places the long history of sharing sacred sites serves as an indicator of the possibilities for pluralism in the context of empire.
She has also co-curated two exhibition projects on Shared Sacred Sites in Thessaloniki, Greece and in New York City.