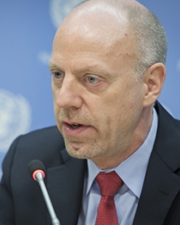 John Wilmoth
Department
Dept of Demography
Dept of Sociology
Research Expertise and Interest
demography
,
sociology
,
methodological research
,
longevity
,
life expectancy
,
mortality differentials
,
familial resemblance
,
mortality and life expectancy forcasting
,
historical population trends
,
world population growth
,
international migration forecasting
Research Description
Associate Professor John Wilmoth graduated from Ball State University ( Indiana) and went on to earn a joint Ph.D. in Statistics and Demography from Princeton University. He spent two years at University of Michigan and joined the Berkeley faculty in 1990, where he teaches in both the Demography and Sociology Departments. His research focuses on changes in health and mortality in industrialized societies, in particular, trends in life expectancy and other indicators of longevity. Others areas of interest include population growth, immigration, and statistical theory and practice in the social sciences. Professor Wilmoth is a member of the Population Association of America and the Gerontological Society of America.