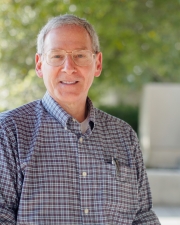 Jeremy Thorner
Title
William V. Power Professor of Biochemistry and Molecular Biology (1991-2011)
Department
Dept of Molecular & Cell Biology
Research Expertise and Interest
biochemistry
,
molecular genetics
,
cell biology
,
signal transduction mechanisms
,
protein kinase function and regulation
,
GPCRs
,
membrane biology
,
control of cell growth/morphology and division
,
regulation of gene expression by extracellular stimuli
Research Description
Transmembrane and intracellular signal transduction mechanisms are the focus of our group, especially understanding how extracellular stimuli control gene expression, cell growth, cell morphology, and cell division at the biochemical level.

Current Projects

Structural analysis of a peptide hormone receptor. To understand the molecular biology of peptide hormone action, we study response of budding yeast (Saccharomyces cerevisiae) to its peptide mating pheromones (alpha-factor and a-factor). The pheromone receptors have seven hydrophobic segments and are coupled to a heterotrimeric G protein. Receptors of this type are ubiquitous and transduce binding of a wide variety of extracellular ligands (peptide hormones, neurotransmitters and other bioactive compounds) into a physiological signal. Attempts to determine the three-dimensional structure of the purified alpha-factor receptor by NMR are underway in collaborative studies. We are also interested in proteins involved in adaptation and recovery after the pheromone-induced signal.

Molecular genetics and biochemistry of a protein kinase cascade. Activation of the receptor-coupled G protein initiates a cascade of three protein kinases, resulting in stimulation of two messenger-activated protein kinases (MAPKs) in the nucleus. A different developmental pathway (invasive or filamentous growth) triggered by nutrient limitation also stimulates these MAPKs. MAPK cascades are universally employed for signal transduction in eukaryotic cells, and every eukaryotic cell contains multiple MAPK pathways. We are investigating the mechanisms that impose specificity and fidelity at each tier in these signaling networks. We showed that one device used by the cell for discrimination between parallel MAPK pathways is a specific docking interaction between a MAPK and the N-terminus of its cognate upstream protein kinase (MEK). We also showed that a scaffold protein helps ensure signaling fidelity in pheromone response by binding the appropriate MAPK, MEK, and upstream activating kinase (MEKK) and by shuttling from the nucleus to the plasma membrane and delivering the MAPK module to its most proximal activator (a fourth membrane-associated protein kinase). A different scaffold protein is required for signal propagation in the invasive growth pathway and is also under study.

Control of gene expression. We used genetic and biochemical methods to demonstrate that two negative transcriptional regulators are substrates of the MAPKs. How the function of these targets is modified by phosphorylation is under study. We also discovered a general regulator of transcription, which has homologs in Drosophila and human cells, that catalyzes ATP-dependent dissociation of TATA box-binding protein (TBP)-DNA complexes. Structural analysis of the mechanism of action of this global transcriptional regulator is in progress.

Protein kinases involved in cell proliferation, differentiation, and cell cycle control. The function of the Wee1 class of protein-tyrosine kinase in cell cycle control is not well understood. We are investigating pathways that regulate the activity, localization, and stability of this enzyme, including its recruitment to septin filaments, which assemble at the presumptive site of cell division. A cascade of protein kinases involved in stress response that is conserved from yeast to humans is also under study.

Molecular biology of phosphoinositide-dependent signaling. In previous work, we have shown that phosphatidylinositol 4-phosphate generated by a specific phosphatidylinositol 4-kinase has a specific role in the Golgi-to-plasma membrane stage of the secretory pathway. This enzyme also has an essential role in supplying the PtdIns(4)P that is converted to PtdIns(4,5)P2 in the nucleus, where it is hydrolyzed by a specific phospholipase C to generate inositol polyphosphates that regulate transcription and mRNA export. We found that the phosphatidylinositol 4-kinase is also regulated by a small calcium-binding protein.

Novel mechanisms for translocation across membranes. We discovered that export of a-factor pheromone requires an integral plasma membrane protein that is a dedicated ATP-dependent transporter, rather than the classical secretory pathway. The mechanism of transmembrane translocation of pheromone by the transporter is being examined. The functions of other members of the same transporter class are also under study.
In the News
March 30, 2021
The Biochemical Society has awarded Professor Emeritus Jeremy Thorner their 2022 Centenary Award!
April 28, 2015
The National Academy of Sciences, the nation's oldest and most prestigious scientific organization, has elected five UC Berkeley faculty members to its ranks, raising the number of members on campus to 143.