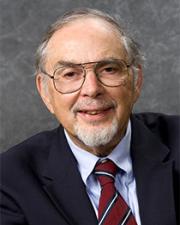 Harry N. Scheiber
Department
Boalt Hall School of Law
Dept of History
Research Expertise and Interest
American legal history
,
ocean law and policy
,
Law of the Sea (international law)
,
federalism and state-federal relations
,
American constitutional development
Research Description
Harry N. Scheiber is the Stefan Riesenfeld Professor of Law and History in the Boalt Hall School of Law. Scheiber has written extensively in American legal history, especially on the history of law and public policy, on federalism, and on constitutional development. He has also led research projects and written on aspects of environmental law, especially Law of the Sea and ocean resources policy. Other research has been in the fields of modern judicial reform, Japanese-U.S. relations and ocean policy, and Japanese fisheries law and development. He has served as a consultant to the Pew Oceans Commission and the National Research Council on marine environmental issues and fisheries law; to the federal government's Advisory Commission on Intergovernmental Relations; and to the State of California on the history curriculum in the schools. His most recent books are Freedom of Contract and the State (1998), The Law of the Sea (2000), Inter-Allied Conflicts and Ocean Law [The Japanese Occupation Era] (2002), and Bringing New Law to Ocean Waters (2004). With Jane L. Scheiber, he is co-author of forthcoming study of martial law and the U.S. Army's rule in Hawaii during World War II. He has also written recently on the California Supreme Court, on modern federal-state relations and constitutional law, and on civil liberties and civil rights in American history.
He is a graduate of Columbia and holds the doctorate in history from Cornell University; he did postdoctoral work in law while a fellow at the Center for Advanced Study in the Behavioral Sciences; and in 1998 he was awarded the honorary Jur.D. from Uppsala University, Sweden. He is a Fellow of the American Academy of Arts and Sciences and was twice a Guggenheim Fellow. Scheiber taught at Dartmouth from 1960 through 1971, and then became a professor of American history at UC San Diego. He joined the Boalt faculty in 1980. In 2000-01, Scheiber has served as associate dean of the School of Law (Boalt Hall), chair of the Jurisporuidence and Social Policy Program, and director of the Center for the Study of Law and Society. He has also served as Chair of the Berkeley Faculty's Academic Senate. Scheiber has held Guggenheim, Rockefeller, American Council of Learned Societies, National Endowment for the Humanities, and Social Science Research Council fellowships. He was a Distinguished Fulbright Lecturer in Australia, and he has been president of the Agricultural History Society, the Council for Research in Economic History, the ACLU of New Hampshire, and the American Society for Legal History. He was elected in 1999 as an honorary fellow of the American Society for Legal History.