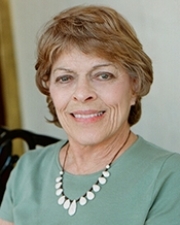 Gertrude Buehring
Title
Professor of the Graduate School
Research Expertise and Interest
role of bovine leukemia virus in causing human breast cancer
,
public health
,
use of cells in breast fluids for diagnostic purposes
,
viruses and human cancer
Research Description
Gertrude Case Buehring, Ph.D. is a professor of virology in the Infectious Diseases and Vaccinology Division of the School of Public Health at the University of California, Berkeley. Her research goal is to uncover a viral agent of breast cancer, and for the past 20 years she has been pursuing bovine leukemia virus (BLV) as a suspect. This virus causes widespread infection in cattle and is harbored within cells in their milk and blood. Breast cancer incidence is highest in countries with the greatest consumption of milk and dairy products. Her research group has made several important discoveries about BLV that support its plausibility as a breast cancer virus: BLV infects the breast epithelium of cattle (it was previously thought to infect only lymphocytes); its transcription is stimulated by steroid hormones progesterone and glucocorticoids; and it inhibits DNA repair, which may be a  mechanism of causing somatic cell mutations which then lead to transformation of cells from normal to malignant. She and collaborators also found that ≈40% of humans tested had antibodies to BLV, 70/111 (63%) had BLV in their blood cells, and that BLV DNA is present in human breast tissue and significantly associated with breast cancer. Although for several decades her research was regarded with strong skepticism, especially the idea that a human cancer could be caused by a virus common in a food source animal, other researchers have validated her group's results and the balance is tipping in favor of accepting BLV as one of the possible causes of human breast cancer. She is increasingly invited to give presentations at professional meetings and write manuscripts for journals.  Her current research is focused on determining whether BLV is transmitted to humans from bovine food products or from other humans already infected, or both.  Determining the source of human BLV infection could lead to new ways to prevent breast cancer. 
She has received several honorary awards for her research including the Cornelius Hopper and Otto Sartorius awards for excellence in breast cancer research, a Fulbright Scholar Award, and a Lifetime Achievement Award from the Society for In Vitro Biology.  She was a Distinguished Lecturer for the American Society for Microbiology (2011-13). Her courses at UC Berkeley have been Public Health Microbiology (PH162A) and Viruses and Human Cancer (PH266).
In the News
September 15, 2015
A new study by UC Berkeley researchers establishes for the first time a link between infection with the bovine leukemia virus and human breast cancer.