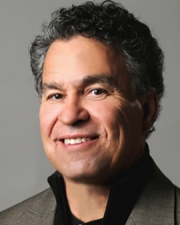 Genaro Padilla
Title
Professor of English
Research Expertise and Interest
American literature
,
Chicano/Latino literary and cultural studies
,
American autobiography
Research Description
Padilla recently published a study of a 17th century Spanish colonial epic titled La Historia de la Nueva Mexico, 1610 (The Daring Flight of My Pen: Cultural Politics and La Historia de la Nueva Mexico, University of New Mexico Press) that provides a reading of a12,000 line poem within a context that considers the problematics of contemporary cultural representations of the first encounter between Spain and indigenous people in what is now the state of New Mexico. He argues that Villagrá's epic poem of the 1598 Spanish colonial settlement reveals that the soldier was no mere chronicler but rather that his poem offers a subtle critique of the empire whose expansion he seems to be celebrating in the tradition of Virgil's Aeneid.
Padilla now turns to a study early 20th century Anglo-American painters and writers who introduced a modernist aesthetic in Santa Fe and Taos that continued to objectify Mexican and Native people at the same time that these artists organized historical and arts societies dedicated to preserving "traditional"arts in the region. What I am trying to understand is the contradiction between these advocates and practicioners of modernity and, once again, a regional cultural hegemony that literally made it impossible for Native and Mexican American artists and writers to engage modernism on their own terms.