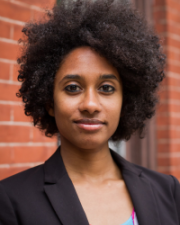 Ellora Derenoncourt
Title
Assistant Professor
Department
Dept of Economics
Goldman School of Public Policy
Research Expertise and Interest
labor economics
,
economic history
,
racial inequality
Research Description
Ellora Derenoncourt is a labor economist and economic historian whose work focuses on inequality. Her research uses quasi-experimental methods and original data collection to understand the evolution of racial inequality in the US over the 20th century. Her recent studies have examined northern backlash against the Great Migration and ensuing reductions in black upward mobility and the role of federal minimum wage policy in accelerating racial earnings convergence during the Civil Rights Era. She has also written on the historical origins of global inequality and Atlantic slavery's impact on European and British economic development.
Her work has been featured in the Economist, the New York Times, the Wall Street Journal, and NPR. Dr. Derenoncourt received her PhD in Economics from Harvard University in 2019, her MSc in Human Geography from the London School of Economics and her A.B. at Harvard University.
In the News
March 18, 2021
Extensive research led by UC Berkeley economists and alumni has found that significant increases in the minimum wage have little, if any, impact on employers' hiring decisions. In fact, the researchers say, a higher minimum wage can produce benefits not just for workers, but for their employers, their communities and the entire economy.