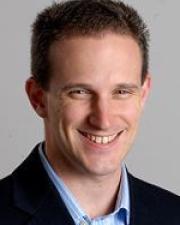 Elad Alon
Title
Professor of Electrical Engineering and Computer Sciences
Department
Division of Electrical Engineering/EECS
Research Expertise and Interest
digital
,
analog
,
and mixed-signal integrated circuits
,
adaptive systems
,
high-speed wireline
,
wireless
,
and optical communications
,
design methodologies
,
modern integrated systems
In the News
May 27, 2014
Neuroscientists, engineers and physicians are teaming up for an ambitious five-year, $26 million project to develop new techniques for tackling mental illness.
April 18, 2014
When Hollywood knocked on the doors of UC Berkeley engineering professors Michel Maharbiz and Jose Carmena, the researchers answered. Director Wally Pfister tapped their expertise in neural engineering and brain-machine interfaces during the filming of his movie, "Transcendence," which opens in theaters April 18.