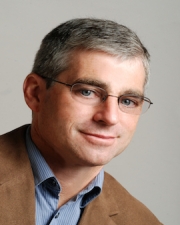 David E. Culler
Title
Professor of Computer Science
Department
Division of Computer Science/EECS
Research Expertise and Interest
parallel architecture
,
hi-performance networks
,
workstation clusters
Research Description
Research Projects
PlanetLab - an open infrastructure for exploring planetary-scale services , Wireless Embedded Sestems (WEbS) for Networked Embedded Systems Technology , Tiny OS: Design Principles for Deeply Embedded Networked Systems , The Endeavour Expedition: Charting the Fluid Information Utility , Ninja - Platform architecture for Scalable Internet Services , Post-PC Era (IBM Pervasive Computing Meetings) , Millennium Clusters of Clusters on a Campus-wide Scale , TITAN A Next-Generation Infrastructure for Integrating Computing and Communication. , NOW: Network of Workstations as a High Performance Integrated System , The Castle Project: Integrated software support for parallel computing. , Split-C: A performance programming language for parallel machines.
In the News
August 27, 2013
Researchers at the University of California, Berkeley, are working to take research innovations from their labs into the real world to cut commercial building energy consumption by close to a third, and give office workers an unprecedented sense of control over their thermal environments.