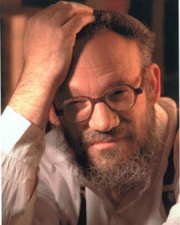 Daniel Boyarin
Title
Professor, Hermann P. and Sophia Taubman Professor of Talmudic Culture
Department
Dept of Middle Eastern Languages & Cultures
Dept of Rhetoric
Research Expertise and Interest
Talmud
,
rhetoric
,
Christianity
,
invention of Judaism
,
cultural theory
,
transnationalism and diaspora
Research Description
Daniel Boyarin received his Ph.D from the Jewish Theological Seminary. His current interests are the Talmud, the rhetoric of interpretation, the politics of rhetoric/philosophy in antiquity, rethinking philological practice on the basis of Wittgenstein, Bakhtin, and Benjamin and arguing against the use of modern abstractions in the study of ancient cultures. The argument of his most current work is that when categories such as "religion" or "Judaism" are applied to ancient cultures that know these abstractions not, more is obscured than revealed by research. The work includes investigation of the genealogy of these abstractions themselves. As part of this project, he is developing some methodological notions (together with a colleague, Prof. Carlin Barton) for revising procedures in philology growing out of the Witgensteinian insistence that meaning is usage and usage alone. Having just completed a critical genealogy of the notion of "Judaism," he is attempting now a more synthetic statement of how he imagines the existence of the Jews in the past and future as a diaspora nation. He is now also engaged in two new projects: an edition of a chapter of the Talmud incorporating an epistemological and aesthetic analysis and a biography of Josephus, the first-century Roman Jewish historian.