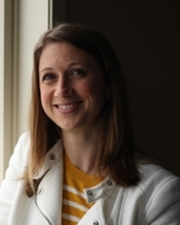 Claire Snell-Rood
Title
Assistant Professor
Research Expertise and Interest
social and cultural context of health behaviors
,
impacts of kinship and community and family dynamics on health promotion and mental health
,
gender and mental health
,
social inequality
,
health stigma
,
moral discourses about health
,
depression intervention for low-resource settings
,
implementation science
,
qualitative methods
,
ethnography
,
community-engaged approaches
,
rural U.S.
,
South Asia
Research Description
Claire Snell-Rood is a medical anthropologist focused on understanding the social-cultural factors influencing women's mental health and health behaviors in underserved settings, and utilizing this knowledge to improve the effectiveness of interventions in order to reduce health disparities. She has conducted ethnographic and qualitative research among women living in slums in urban India and among women with depression in the rural U.S., partnering with community-based research and advocacy organizations and lay health worker initiatives.
Her current research focuses on system-level interventions to expand access to medication-assisted treatment (MAT) for opioid use disorders in rural areas. She is examining the organizational and system-level factors (e.g. contracting, billing, training) impact the rural implementation of California's "hub and spoke" intervention for MAT expansion.