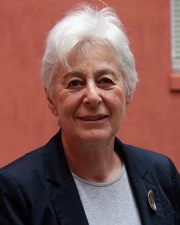 Claire Kramsch
Title
Professor of German and Education
Department
Department of German
Graduate School of Education
Research Expertise and Interest
language
,
culture
,
pragmatics
,
society
,
education
,
applied linguistics
,
aesthetics
,
literacy
,
second language acquisition
,
language pedagogy
,
language in discourse
,
hermeneutic approaches to language learning
Description
Claire Kramsch's area of research is applied linguistics and second language acquisition, as well as language pedagogy. She is the director of the Berkeley Language Center. In 2000 she received both UCBerkeley's Distinguished Teaching Award and the Distinguished Service Award from the Modern Language Association. In 1998 the Federal Republic of Germany bestowed on her the Goethe Medal in recognition of her work in fostering intercultural dialogue. Her writings deal with various aspects of the acquisition of language in discourse, language and culture, pragmatics, aesthetics, and hermeneutic approaches to language learning.
In the News
January 20, 2011
German Professor Claire Kramsch approach to language acquisition focuses on the inner experience of language learners, which she believes cannot be separated from the learner's mother tongue: "Instructors can help students engage that gap between the native tongue and the new language."