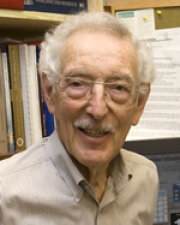 Bruce N. Ames
Title
Professor of the Graduate School
Department
Dept of Molecular & Cell Biology
Research Expertise and Interest
molecular biology
,
cancer
,
aging
,
mitochondrial decay
,
oxidants and antioxidants
,
micronutrient deficiencies and DNA damage
,
chronic inflammation and cancer
Research Description
Dr. Ames is a Professor of Biochemistry and Molecular Biology, Emeritus, University of California, Berkeley, and a Senior Scientist at Children's Hospital Oakland Research Institute. He is a member of the National Academy of Sciences and he was on their Commission on Life Sciences. He was on the board of directors of the National Cancer Institute, the National Cancer Advisory Board, from 1976 to 1982. His awards include: the General Motors Cancer Research Foundation Prize (1983), the Tyler Environmental Prize (1985), the Gold Medal Award of the American Institute of Chemists (1991), the Glenn Foundation Award of the Gerontological Society of America (1992), the Honda Prize of the Honda Foundation, Japan (1996), the Japan Prize, (1997), the Kehoe Award, American College of Occup. and Environ. Med. (1997), the Medal of the City of Paris (1998), the U.S. National Medal of Science (1998), the Linus Pauling Institute Prize for Health Research (2001), the American Society for Microbiology Lifetime Achievement Award (2001), the Thomas Hunt Morgan Medal from the Genetics Society of America (2004), and the American Society for Nutrition/CRN M.S. Rose Award (2008). His 540+ publications have resulted in his being among the few hundred most-cited scientists (in all fields). www.bruceames.org; bames@chori.org
In the News
May 15, 2014
A new study of preschools and day care centers finds that flame retardants are prevalent indoors, potentially exposing young children to chemicals known to be hazardous. This study represents the first systematic review of flame retardants in early child care settings.


May 18, 2011
A new study has found that many baby products, including nursing pillows, changing pads and strollers, contain levels of flame retardant that could expose infants to more of these chemicals than the government recommends as safe.