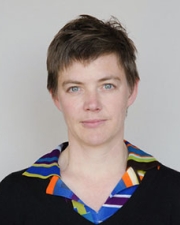 Beate Fricke
Title
Assistant professor
Department
Department of History of Art
Research Expertise and Interest
Medieval art and architecture
,
idolatry
,
iconoclasm
,
history of allegory
,
formation of communities
,
incest
,
anthropophagy
,
animation
,
emergence of life and procreation
,
theories and practices in use of images and relics
,
visual and material culture
,
Carolingian Art
,
Gothic Art
,
Ottonian Art
Description
I am an expert in European Medieval Art and Architecture. My research deals with the history of images, of visual and religious culture using perspectives from philosophy, cultural anthropology, history of the sciences and theology. My current project is on animation and the emergence of Life at the intersections between art, natural philosophy, alchemy and theology. Recent articles have dealt with subjects at the "Margins of Culture", such as incest and anthropophagy, by exploring how "Kippfiguren" and other marginal insignia defined "culture" during the High and Late Middle Ages.