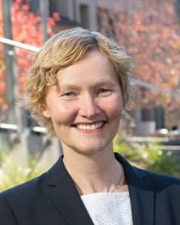 Annette Vissing-Jørgensen
Research Expertise and Interest
monetary policy
,
asset pricing
Research Description
Annette Vissing-Jorgensen holds the Arno A. Rayner Chair in Finance and Management at Berkeley Haas. Her research focuses on empirical asset pricing, monetary policy, household finance, and entrepreneurship, and it spans both asset pricing and corporate finance.
She is a research associate in the NBER's Asset Pricing program, Monetary Economics program, and Economic Fluctuations and Growth program and is a Research Fellow in the CEPR's Financial Economics program. She is an Associate Editor of the Journal of Finance and a Director of both the American Finance Association and the European Finance Association.
In the News
April 22, 2021
Six UC Berkeley faculty members and top scholars have been elected to the American Academy of Arts and Sciences (AAAS), a 241-year-old organization honoring the country's most accomplished artists, scholars, scientists and leaders who help solve the world's most urgent challenges.
January 14, 2020
Prof. Annette Vissing-Jørgensen has been honored by the Swiss Finance Institute with its Outstanding Paper Award 2019 for "The Impact of Pensions and Insurance on Global Yield Curves".