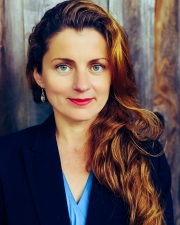 Andreea Gorbatâi
Title
Assistant Professor
Research Expertise and Interest
Collective Production
,
collective identity
,
social norms
,
entrepreneurship
,
race and gender bias and discrimination
Research Description
Andreea Gorbatai is an Assistant Professor in Management of Organizations area. She currently teaches Leading People in the evening MBA program at the Haas School of Business.
Professor Gorbatai received her Ph.D. in Organizational Behavior from the Harvard Business School. Prior to her doctorate degree, she received a Masters in Sociology from Harvard University, and an undergraduate degree in Economics and Sociology from Dartmouth College. In her previous career, Professor Gorbatai worked in economic consulting for National Economic Research Associates (NERA), and in strategy and operations consulting for Deloitte Consulting. Her work projects ranged from estimations of intellectual property damage in biotech, and competitive analyses for antitrust trials in the software industry, to IT merger and integration planning, consumer packaged goods process redesign, and performance management system design for the publishing industry. Professor Gorbatai has extensive international experience and is fluent in five different languages (English, Romanian, French, Spanish, and Italian).