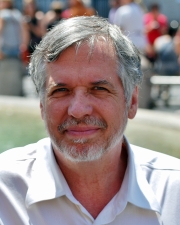 Albert Russell Ascoli
Title
Terrill Distinguished Professor
Research Expertise and Interest
Italy
,
national identity
,
literature and history
,
Dante
,
authorship and authority
,
Ariosto
,
Machiavelli
,
Petrarch
,
Boccaccio
,
epic and romance
,
Renaissance
,
early modern
,
Middle Ages
Research Description
Albert Russell Ascoli, Ph.D. Cornell University, is Terrill Distinguished Professor. His principal field of study is Medieval and Early Modern Italian culture from the 13th to the 16th centuries. Teaching and research interests include the relations between literary form and history; configurations of authorship and readership; the construction of Italian identity from the Renaissance to the Risorgimento; literary politics of gender; comparative Renaissance Studies; Dante, Boccaccio, Petrarch, Machiavelli, Ariosto. Significant recent published work includes "The Cambridge Companion to Petrarch," edited, with Unn Falkeid (Cambridge University Press, 2015); "A Local Habitation, and a Name: Imagining Histories in Renaissance Italy" (Fordham University Press, 2011); "Italian Futures," edited, with Randolph Starn (special issue of "California Italian Studies," 2011); "Italy in the Drama of Europe," edited, with William West (special double issue of "Renaissance Drama," 2010); "Dante and the Making of a Modern Author" (Cambridge University Press, 2008).  For more complete access to many of his publications go to https://berkeley.academia.edu/AlbertRussellAscoli.