Bakar Fellows Faculty Director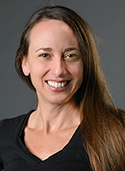 Amy E. Herr is the faculty director of the Bakar Fellows program. She was part of the inaugural 2012-13 Bakar Fellows cohort with support for her start-up, Zephyrus Biosciences to develop research tools enabling protein analysis at the single cell level. The company was acquired in March 2016 by Bio-techne. She is the Lester John and Lynne Dewar Lloyd Distinguished Professor in Bioengineering at UC Berkeley, Alfred P. Sloan Foundation Research Fellow in Chemistry, and co-inventor of the scWestern technology. She is an internationally recognized leader in microanalytical tool innovation. She earned her Ph.D. and M.S. degrees in mechanical engineering from Stanford and holds a B.S. in engineering & applied science from Caltech.
Please contact bakarfellows@berkeley.edu with any questions you may have about the program, or your application to join the program.