Courses Related to Energy and Climate Research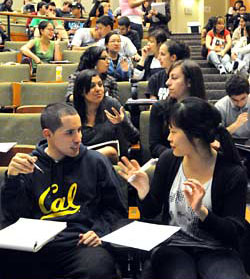 The following list, selected by an interdisciplinary faculty committee, provides an overview of energy and climate course offerings at UC Berkeley.
Please refer to Berkeley's online schedule of classes for all final enrollment information. 
If you would like to suggest that another existing course to be added to the list, please write to energy@berkeley.edu.
----------
General Courses
Regulation of Energy and the Environment - Environmental Economics And Policy (ENVECON) 147 [4 units]
Course Format: Three hours of lecture and one hour of discussion per week.
Prerequisites: Intermediate microeconomic theory and calculus.
Description: This is an applied economics course on government regulation of energy with an emphasis on policies that seek to mitigate the impact of energy production and consumption on the environment. The course is designed to help students make connections between economic concepts and real world regulatory policy questions and issues.
(SP) Fowlie
Empirical Energy and Environmental Economics - Agricultural And Resource Economics (A,RESEC) 264 [3 units]
Course Format: Three hours of lecture per week.
Prerequisites: 212 and 213; or equivalent.
Description: This course is designed to help prepare graduate students to conduct empirical research in energy and environmental economics. The course has two broad objectives. The first is to develop an in-depth understanding of specific empirical methods and research designs that are routinely used in the field of energy and environmental economics. The second is to familiarize students with some of the economic theories and institutions that are most relevant to empirical work in this area.
(SP) Fowlie
Energy, Culture and Social Organization - Anthropology  (ANTHRO) 137 [4 units]
Course Format: Three hours of lecture per week.
Description: This course will consider the human dimensions of particular energy production and consumption patterns. It will examine the influence of culture and social organization on energy use, energy policy, and quality of life issues in both the domestic and international setting. Specific treatment will be given to mind-sets, ideas of progress, cultural variation in time perspectives and resource use, equity issues, and the role of power holders in energy related questions.
(F,SP)
Energy and Environment - Architecture  (ARCH) 140 [4 units]
Course Format: Three hours of lecture and three hours of discussion/laboratory per week.
Prerequisites: Physics or equivalent, or consent of instructor.
Description: This course provides undergraduates and graduates with an introduction to issues of physical building performance including building thermodynamics, daylighting, and solar control. The course presents the fundamentals of building science while recongnizing the evolving nature of building technologies, energy efficiency, ecology, and responsible design. The course begins with a detailed explication of the thermal properties of materials, heat transfer through building assemblies, balance point temperature, solar geometry, and shading analysis. Students apply these principles later in the course to a design project. The latter part of the course also provides a survey of broader building science topics including mechanical system design, microclimate, and current developments in energy-efficient design.
(SP) Benton, Brager
Reading and Composition in Energy, Society, and Environmental Design - Environmental Design  (ENV DES) R3B [4 units]
Course Format: Three hours of lecture per week.
Prerequisites: UC Entry Writing Requirement or UC Analytical Writing Placement Exam. R1A or equivalent course is prerequisite to R1B.
Description: This course will expose students to key literature that examines, primarily, the relationship between sustainability and environmental design disciplines. Our goal will be not only to investigate the central ideas that inform the design of sustainable landscapes, cities, and buildings, but also to understand how competing arguments are presented in writing. Satisfies the second half of the Reading and Composition Requirement.
(F,SP) Staff
Health Implications of Climate Change - Environmental Science, Policy And Management  (ESPM) C282 [3 units]
Course Format: Three hours of lecture per week.
Prerequisites: The material will be presented with minimal expectation of a background in physical science, although some additional reading may be needed for students with no university science courses. A background in epidemiology is also helpful, but not necessary.
Description: The course will provide a basic foundation in the physical mechanisms of, responses to, and health implications of climate change. We will explore the variety of epidemiologic, risk assessment, and statistical methods used to understand the impacts of climate change on health across diverse demographic groups. The public health implications, positive and negative, of efforts to mitigate and adapt to climate change will be elaborated, including discussions of ethical, political, and economic aspects of these efforts. Students will be responsible for leading class discussions and presenting a poster on their choice of a topic related to climate change and health. Also listed as Public Health C271G.
(SP) Jerrett, Morello-Frosch
-----------
Energy Courses
Bioenergy and Sustainable Chemical Synthesis: Metabolic Engineering and Synthetic Biology Approaches - Bioengineering  (BIO ENG) 148 [3 units]
Course Format: Three hours of lecture per week.
Prerequisites: Chemistry 3A and Molecular and Cell Biology C100A/Chemistry C130A or equivalent.
Description: This course will cover metabolic engineering and the various synthetic biology approaches for optimizing pathway performance. Use of metabolic engineering to produce biofuels and general "green technology" will be emphasized since these aims are currently pushing these fields. The course is meant to be a practical guide for metabolic engineering and the related advances in synthetic biology as well the related industrial research and opportunities.
(SP) Dueber
Seminar in Energy and Resources - Energy And Resources Group  (ENE,RES) 290 [1-3 units]
Course Format: Three hours of seminar per week.
Prerequisites: Graduate standing in Energy and Resources Group or consent of instructor.
Credit option: Course may be repeated for credit.
Description: Graduate student presentations and faculty-student discussions of advanced topics in energy and resources. Specific topics vary according to faculty and student interest.
(F,SP) Staff
----------
Climate Courses
Energy Solutions: Carbon Capture and Sequestration - Chemical And Biomolecular Engineering (CHM ENG) C295Z [3 units]
Course Format: Three hours of lecture per week.
Prerequisites: Chemistry 4B or 1B, Mathematics 1B, and Physics 7B, or equivalents.
Description: After a brief overview of the chemistry of carbon dioxide in the land, ocean, and atmosphere, the course will survey the capture and sequestration of CO2 from anthropogenic sources. Emphasis will be placed on the integration of materials synthesis and unit operation design, including the chemistry and engineering aspects of sequestration. The course primarily addresses scientific and engineering challenges and aims to engage students in state-of-the-art research in global energy challenges. Also listed as Earth and Planetary Science C295Z and Chemistry C236.
(F) Bourg, DePaolo, Long, Reimer, Smit
Bioenergy - Plant And Microbial Biology (PLANTBI) 122 [2 units]
Course Format: Two hours of lecture per week.
Prerequisites: Biology 1A and 1B; Chemistry 3B.
Description: Offers an assessment of global energy supply and demand, addresses the chemistry of climate change, examines the response of plants and microbes to changes in the environment, and emphasizes the role of biology and photosynthesis in offering solutions to related energy and societal problems. Bioenergy is examined from the point-of-view of potential biofuels, including aspects of the biological generation of hydrogen, hydrocarbons, fatty acids, lipids, and bio-oils, polymers and related materials.
(SP) Buchanan, Melis, Pauly
  
Climate Change Mitigation - Civil And Environmental Engineering  (CIV ENG) 107 [3 units]
Course Format: Three hours of lecture and one hour of discussion per week.
Prerequisites: Upper division or graduate standing in engineering or physical science, or consent of instructor.
Description: Assessment of technological options for responding to climate change. Overview of climate-change science; sources, sinks, and atmospheric dynamics of greenhouse gases. Current systems for energy supply and use. Renewable energy resources, transport, storage, and transformation technologies. Technological opportunities for improving end-use energy efficiency. Recovery, sequestration, and disposal of greenhouse gases. Societal context for implementing engineered responses.
(SP) Nazaroff
Future Ecologies: Urban Design, Climate Adaptation, and Thermodynamics - Environmental Design (ENV DES) 4C [3 units]
Course Format: Three hours of lecture per week.
Description: This course is intended to provide students with an overview of current thinking about cities and their components (buildings, parks, streets) as ecological and cultural systems. It will provide an introduction to methods for investigating the dynamics of flows and relationships in the built environment and students will gain experience constructing their own narratives as ways of asking and answering questions about human habitat that could shape the future.
(F,SP)