Berkeley Institute for Data Science Launch Dec 12, 2013
See more photos from the Berkeley Institute for Data Science Launch.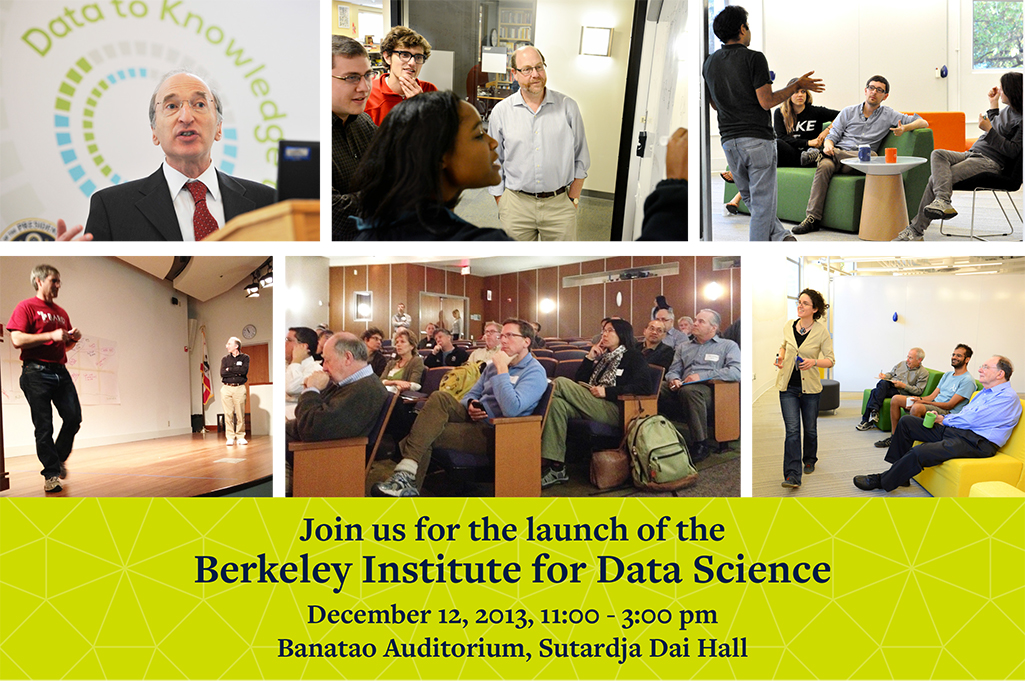 The Berkeley Institute for Data Science (BIDS) will help researchers harness the full potential of the data-rich world that today characterizes all fields of science and discovery. BIDS will build on existing campus strengths to facilitate and enhance the development and application of cutting-edge data science techniques in the biological, social, physical and engineering sciences.

The new Institute will launch its initial programs on December 12, 2013, and will move into its new location in Doe Library at the center of campus in spring 2014.
11:00 am

Welcome Remarks, Chancellor Nicholas Dirks
Speakers include: 
Tim O'Reilly, Founder and CEO, O'Reilly Media
Peter Norvig, Director of Research, Google
Saul Perlmutter, Professor, Physics, Nobel Laureate
David Culler, Professor and Chair, Electrical Engineering and Computer Science
Vicki Chandler, Chief Program Officer, Science Program, Moore Foundation

 Noon
Lunch
 12:10 - 2:20 pm
Data Science Faire
Showcase of data science research from around the campus
2:30 - 3:00 pm

Panel Discussion
Moderated by Joshua Bloom, Astronomy
Deborah Agarwal, Lawrence Berkeley National Laboratory
Cathryn Carlson, Social Sciences; D-Lab
Mike Franklin, Electrical Engineering and Computer Science; AMP Lab
The Institute is part of a collaborative effort supported by the Gordon and Betty Moore Foundation and the Alfred P. Sloan Foundation. The new 5-year, $37.8 million initiative was announced in November 2013. Click here for additional background.