Berkeley Research Numbers
RESEARCH FUNDING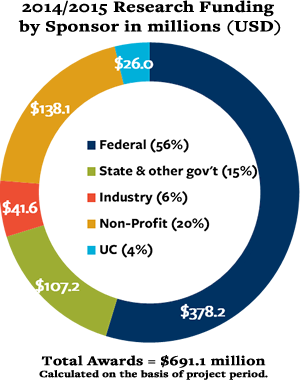 Each year, the UC Berkeley campus receives well over half a billion dollars in research support from external sources. In the fiscal year ending June 30, 2015, UC Berkeley attracted $691.1 million in new research funding.  Many of these research awards fund multi-year projects and support expenditures that will be reflected in subsequent years. The federal government provided 56 percent of these sponsored research funds, and California state agencies and other government sources, industry, and the non-profit sector supplied the rest. Of the research funding provided by the U.S. government, the largest contributors are the National Aeronautics and Space Administration, the National Institutes of Health and the National Science Foundation.
2014-15 Highlights include:
---
PRECISION MEDICINE
Innovative Genomics Initiative
Led by Jennifer Doudna, the Innovative Genomics Initiative (IGI) focuses on "DNA scissors" referred to as CRISPR/Cas9. The technology has exploded in popularity since it was first published in June 2012 and is at the heart of several new start-ups. IGI was established at UC Berkeley's Li Ka Shing Center for Genomic Engineering in early 2014 with a generous gift from the Li Ka Shing Foundation.
---
SPACE SCIENCE
Exploring the Universe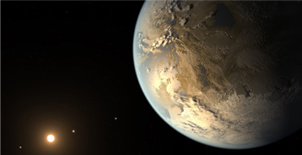 The Breakthrough Prize Foundation and its founder, investor Yuri Milner, recently committed $100 million over 10 years to UC Berkeley and other institutions to lead enhancements in the search for extraterrestrial intelligence.
UC Berkeley cosmologists are also expanding programs related to the study of the early universe. NSF provided new support for the Simons Array, a new system of three powerful telescopes. Led by scientists from UC Berkeley and other institutions, the Simons Array will search for the signature of cosmic inflation — the rapid expansion of the early universe after the Big Bang.
---
 

NEUROSCIENCE
Early Success of Brain Initiative
The first research grants of President Obama's BRAIN Initiative included three awards to UC Berkeley researchers, totaling $7.2 million, to improve advanced brain imaging tools, compile a complete catalog of brain neurons, and construct probes of neuron signaling that can be switched on or off with light. UC Berkeley also has a new $5.6 million collaboration with Carl Zeiss Microscopy to fast-track microscopy development for new neurotechnologies.
---
 

DESIGN INNOVATION
Jacobs Institutte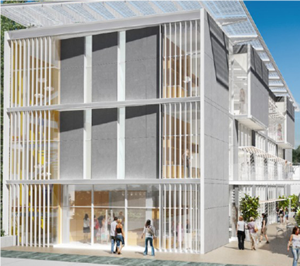 Opening August 2015, Jacobs Hall is a new campus hub for engineers, artists and game-changers of all kinds who work at the intersection of design and technology. Light-filled studios provide flexible space with access to tools for prototyping, iteration and fabrication. A $20 million gift from the Paul and Stacy Jacobs Foundation supports the Institute's many educational activities.
See a two-page overview of research excellence at UC Berkeley for 2014 - 2015.