Berkeley Research Numbers
A RESEARCH POWERHOUSE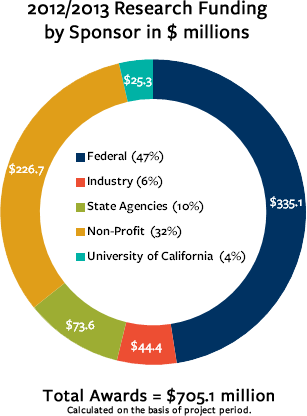 UC Berkeley is consistently rated among the top institutions in the world for the quality and breadth of its research programs, the distinction of its faculty, and the excellence of its Ph.D. programs. Berkeley's strength includes particular expertise in addressing pressing global challenges such as health, energy, and the environment. In 2012/13, UC Berkeley received $705.1 million in research grants and contracts. To learn more about UC Berkeley's research successes, download the Research in Numbers 2011-2012 brochure. 
The 2013 Academic Ranking of World Universities, compiled by the Institute of Higher Education at Shanghai Jiao Tong University in China, rates UC Berkeley number three in the world (after Harvard and Stanford). Berkeley was the top-ranked public university. The ranking compared 500 higher education institutions worldwide, public and private. It used a variety of indicators of academic or research performance, including:
Nobel Prizes and other international awards won by alumni and faculty or staff.
Highly-cited researchers in 21 broad subject categories.
Articles published in selected top journals and noted in major citation indexes.
Research Funding

Each year, the Berkeley campus receives well over half a billion dollars in research support from external sources. In the fiscal year ending June 30, 2013, UC Berkeley attracted $705.1 million in new research funding. This represents a 38 percent increase over the past decade. Many of these research awards fund multi-year projects and support expenditures that will be reflected in subsequent years. 
The federal government provided 47 percent of these sponsored research funds, and California state agencies, industry, and the non-profit sector supplied the rest. Of the research funding provided by the U.S. government, the largest contributors are the Department of Health and Human Services and the National Science Foundation, with each contributing approximately one third of the federal funding. 
UC Berkeley & Berkeley Lab
UC Berkeley has a unique and historic relationship with Lawrence Berkeley National Laboratory (Berkeley Lab). When the laboratory became a part of the U.S. Department of Energy's national laboratory system in the 1950s, the partnership between the two institutions was broadened. Today, the relationship is thriving. More than 200 UC Berkeley faculty members also hold appointments at the Berkeley Lab (plus 28 faculty from other UC campuses). In addition, Berkeley Lab hosts nearly 600 UC Berkeley graduate and undergraduate students, along with 475 post-doctoral researchers. The two institutions are partners in a number of major research efforts, including the Joint BioEnergy Institute, the Energy Biosciences Institute, and the Helios Solar Energy Research Center.